The bosses are gone! We are now the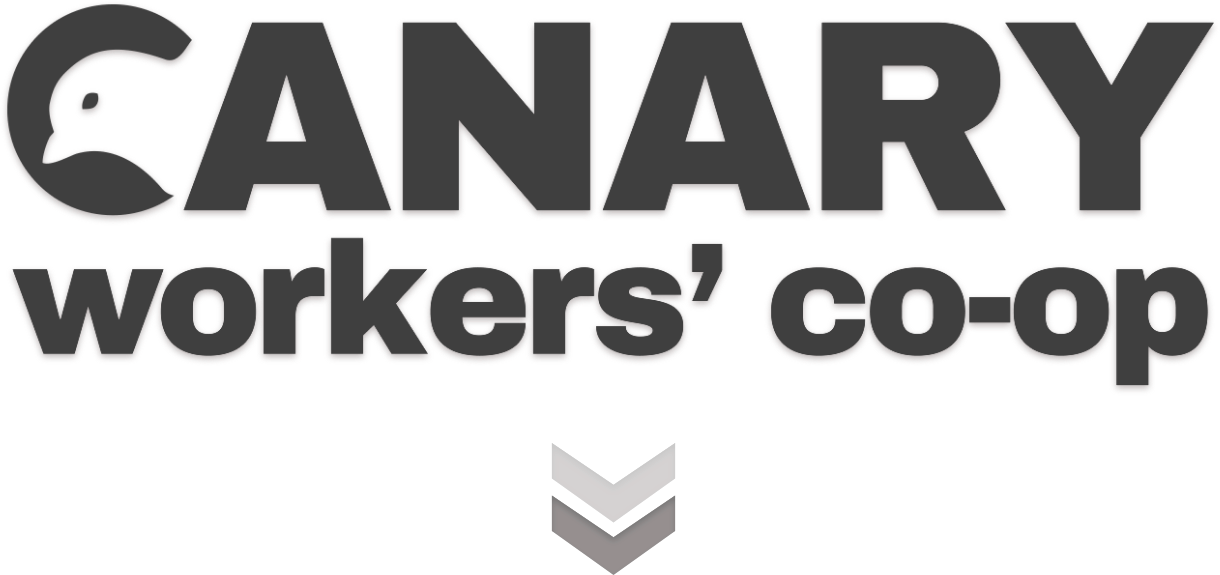 The Canary was founded in 2015 as a limited liability company (LLC), and its founders / directors ran it like a capitalist business – albeit not very well. However, in the summer of 2022, everything changed. A seismic chain of events led to revelations none of us could have anticipated.
We uncovered a gulf between directors' and workers' pay and terms that was much larger than any of us had suspected. In light of these revelations, and with a long-held desire to be more equitable, the current Canary team has worked tirelessly, and with the utmost integrity and accountability, to restructure, reorganise, and revive this project to make it the Canary we all know it should be.
A workers' revolution
What we have undergone is a workers' revolution. We are now a co-operative with a structure that is run democratically by the people who actually work here. We pass decisions in open meetings, where everyone gets a say and everyone's vote counts – and we make decisions transparently and collectively. For the first time since its inception, the Canary is truly walking the talk – we are embodying the sort of work environment and community spirit that we advocate through our journalism.
We wanted to use this as an opportunity not only to reorganise ourselves but also to refresh our content, branding, and editorial direction. This is as much a rebirth as it is a revolution.
Addressing inequality
The Canary Workers' Co-op has worked hard to ensure that workplace inequality is a thing of the past – but it took us a long time to get here.
Previously, the Canary was very much a hierarchical organisation. Directors made decisions and imposed them upon the rest of the team. ​​Possibly the most egregious example is when a group of workers tried to improve their working conditions. Directors responded to this by opposing workers and union representation when they unilaterally decided to make several staff members redundant. Naturally, this created a climate of fear for the workers.
Moreover, directors enjoyed perks such as unlimited personal, mental health, and sick leave on full pay. The rest of the staff, meanwhile, only received 65% sick pay, and historically received statutory sick pay. Staff also faced restrictions on when they could take annual leave, even when they requested this for their health. While we publicised that there was only a 20% pay gap between the highest and lowest paid members of staff, the disparity in director and staff employment terms resulted in a pay gap that, in some cases, was about double that claim.
Now, we have a horizontal structure that allows for collaborative decision-making. We have mental health days written into our contracts. Everyone gets sick leave on full pay. And everyone receives the same rate of pay at £12 per hour. Now that we've addressed the obvious inequalities, we're building a culture in which directors calling the shots are a thing of the past.
Investigating the Canary
Towards the end of 2021, when it became clear that one of the directors wasn't fulfilling business-critical responsibilities, the team tried to hold said director accountable. This director's departure in June 2022 led to staff gaining unprecedented access to the company's accounts and financial records. Upon closer examination, what we discovered went from bad to worse, and from worse to what-the-actual-fuck.
We are activists before we are journalists. We believe in direct action. Unfortunately, we never thought we'd have to take direct action against our own company. We uncovered a number of irregularities that the team was sickened by. Since then, we have tried in earnest, with openness and transparency, to rectify these irregularities as a collective.
However, taking responsibility for the actions of former directors, while also keeping the Canary running and all its staff employed, will be a struggle.
Support the media revolution
The Canary has only managed to come this far with the encouragement and financial contributions of our readers. If the Canary Workers' Co-op is going to soar, we need your help to continue this workers' revolution and continue to amplify marginalised communities and break down systems of oppression.
There is no other truly radical working class media outlet that is run by the workers and has the reach of the Canary Workers' Co-op. Faced with an ultra authoritarian Tory government, millions on the brink of destitution, escalating global conflict and a climate catastrophe, the need for strong independent disruptive journalism has never been more urgent. Please, support us today. Whatever you can spare could make the world of difference.
Meet the team
Our journalists aren't all privately-educated, Russell Group/Oxbridge alumni. We're located up and down the country and are faced with the same struggles as many of our readers. Many of us are working class, on benefits, and/or disabled, so you can trust us to fight your corner. This is what a real media revolution – made by the people, for the people – looks like.